ICFs in the Finger Lakes: Maximum Energy Savings, Minimum Maintenance, and Extra Protection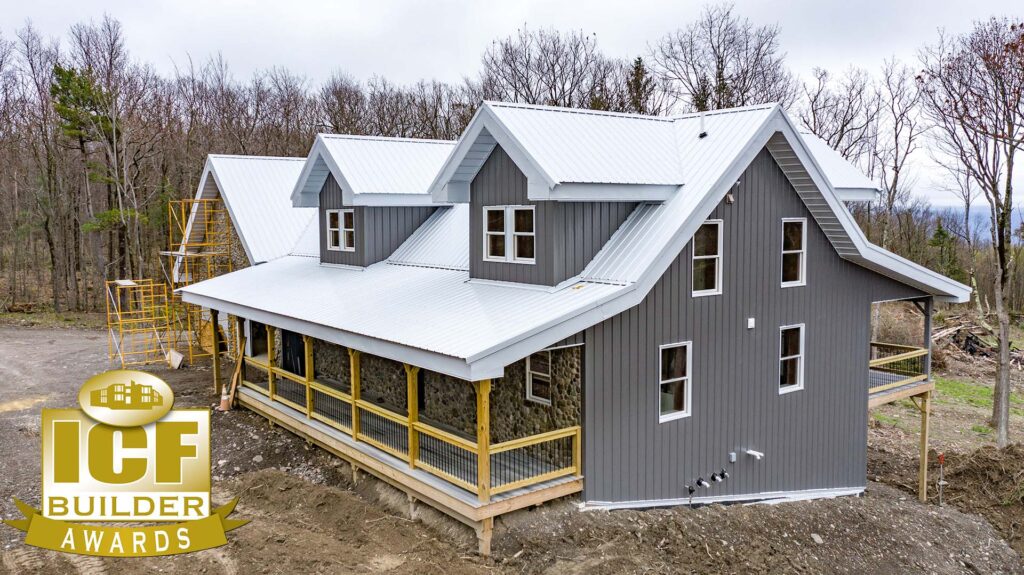 Completed in May of 2019, this featured project is the Stid Hill House. Built by Victor Logan in the heart of the New York Finger Lakes region, and has been recognized at the 2020 ICF Builder Awards in the category of Small Residential. Designed by Logan's wife and daughter, this house serves as a retirement home for his mother. The goal of this project was to build a house that can offer maximum energy savings with minimal maintenance and extra protection from the often-harsh environment. With energy savings as the primary objectives, Victor made the decision to build with Insulating Concrete Forms (ICFs). After a fair amount of research and conversations with a local BuildBlock representative, Victor decided to use BuildBlock ICFs because of their energy efficiency rating, low maintenance, stellar protection from the elements, and readily available training resources.
Project Information:
Name: Stid Hill House
Location: The New York Finger Lakes
Size: 2,800 square feet
Square Footage of ICF Used: 2,300
Achieving Project Goals
The design of the Stid Hill House includes a main living space that is distributed across the first floor with additional loft-style spare bedrooms on a second floor. To achieve low energy use, Victor used BuildBlock ICFs for the exterior walls, a closed-cell spray foam roof, and a high-efficiency fireplace as the main heating source. The home is equipped with a propane heater but is only used as a backup heat source on incredibly cold days. The use of these additional high-efficiency materials gives the home an estimated R-Value of R-60. To ensure that this house is as low-maintenance as possible, Victor integrated sheet metal siding and roofing to the home. This also provides the house with extra protection from the elements and resistance to insects and rodents. The interior is complete with beautiful custom cabinets (attached directly to the ICF walls) and wood trim work.
ICF Installation Learning Curve
Without any previous ICF experience, a concern that Victor had was learning the ICF installation techniques. BuildBlock offers a wide variety of educational materials that are available for free online. These include comprehensive installation and engineering manuals, a complete online training course, and a large library of educational videos. Victor used all of these resources to educate himself and then reached out to a local distributor (BuildBlock of Central New York) for additional tips and help. Victor said, "The challenge was learning a new building technique but BuildBlock's documentation and resources made the task easy." Since Victor was able to easily learn the ICF installation process from BuildBlock's training resources, the only minor delays throughout the construction process were due to inclement weather conditions.
Project Completion
The use of ICF walls allowed this house to meet all of the design goals and soon became a source of jealousy among neighbors. Victor notes that the site piqued the interest of local builders because of the use of ICFs and repeatedly drew visitors. "As the owner and builder, I am satisfied with the results of the BuildBlock product. I have no regrets with selecting the BuildBlock ICFs… BuildBlock of Central New York has been very helpful throughout this construction process and deserves due credit." said Victor. The finished home is beautiful inside and out and boasts an amazing view from the back patio. The owner couldn't be happier with the finished product and is thankful that BuildBlock ICFs made their ambitious construction goals possible.
Gallery